THE BLOODY MARY'S OF THE WORLD - THE ST. REGIS COLLECTION
BLOODY SUNRISE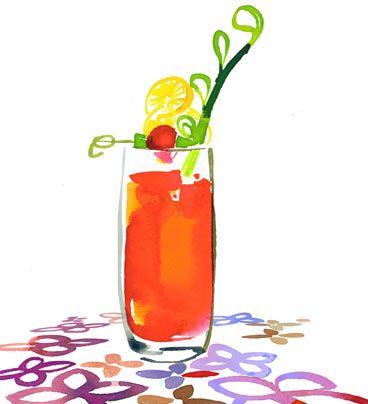 The rich tradition of The Bloody Mary continues at The St. Regis Bal Harbour Resort with the Bloody Sunrise.
This crisp, zesty concoction draws inspiration from the captivating South Florida sunrises that greet our guests each morning. Crafted with signature Floridian touches like citrus and a colorful vegetable pincho, the Bloody Sunrise offers delightfully sophisticated refreshment.
We invite you to browse its unique recipe and sample the same privilege at home. Cheers!
Ingredients:
2 key limes, sliced, plus more for ice cubes
Simple syrup
1 pinch celery salt
1 pinch coarse black pepper
1 pinch crushed red pepper
½ tbsp / 7 ½ ML Worcestershire sauce
½ tbsp / 4 ½ g grated fresh
horseradish root
2 oz / 60 ML Clamato® picante juice
2 oz / 60 ML tomato juice
1 ½ oz / 45 ML premium vodka
1 dried lemon slice, for garnish
Organic celery, carrot and tomato, skewered on a small metal skewer (pincho), for garnish
Directions:
Prepare lime-juice ice cubes by mixing 6 parts fresh lime juice, 2 parts water and 2 parts simple syrup.
Pour into
an ice tray and freeze.
For the Bloody Sunrise Mix: Muddle the limes, salt, black and red peppers, Worcestershire sauce and horseradish.


Add the Clamato and tomato juice.
Shake well.
Place the lime-juice ice cubes in a highball glass.
Add vodka and top with Bloody Sunrise Mix.
Garnish with the lemon slice and skewered organic vegetables.
Daily:

12:00PM - 2:00AM

Champagne Hour (Daily):

6:30PM - 7:30PM

Live Jazz Pianist-Singer (Daily):

6:00PM - 1:00AM