THE BLOODY MARY'S OF THE WORLD - THE ST. REGIS COLLECTION
DESERT SNAPPER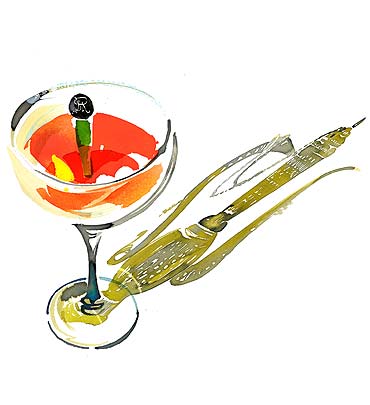 The rich tradition of The Bloody Mary continues at The St. Regis Abu Dhabi with the Desert Snapper.
The St. Regis Abu Dhabi's signature cocktail derives inspiration from aromas and tastes evocative of the city's rich heritage. This smoky concoction harkens to the conviviality of the hookah lounge that is central to Abu Dhabi's traditional social and cultural scene.
We invite you to browse its unique recipe and sample the same privilege at home. Cheers!
Ingredients:
1 tsp / 3 g za'atar
½ tsp / 3 ML lemon juice
5 tbsp / 75 ML tomato juice
1 tbsp / 25 ML cucumber juice
2 tbsp / 40 ML lemon vodka
5 drops Tabasco sauce
Handheld smoker (optional)
1 cherry tomato
1 tbsp / 15 ML olive oil
1 cucumber slice, for garnish
1 lime twist, for garnish
3 chickpeas, for garnish
Directions:
Set aside a pinch of za'atar for the handheld smoker.
Rim a classic margarita glass with za'atar and lemon juice.
Pour the tomato juice, cucumber juice, lemon vodka and the remaining lemon juice into a Boston shaker.
Add the Tabasco sauce, remaining za'atar and ice.
Smoke ingredients with the pinch of za'atar.
Cover and shake well.
Double strain and pour into the glass.
Dip the tomato in the olive oil and add to the cocktail.
Garnish with the skewered cucumber slice, lime twist and chickpeas.
For a nonalcoholic version, omit lemon vodka and use 3 oz / 90 ML tomato juice and 1 oz / 30 ML cucumber juice.
Daily:

12:00PM - 2:00AM

Champagne Hour (Daily):

6:30PM - 7:30PM

Live Jazz Pianist-Singer (Daily):

6:00PM - 1:00AM