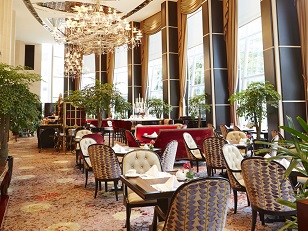 Partake on an indelible gourmet experience and dine amidst elegantly opulent surrounds. Brasserie Les Saveurs caters to the most discerning gourmands with classic French gastronomy.
LaBrezza embraces the richness of Italian signature with a gastronomic tour of Italy. Presenting a delectable experience of a cuisine that exemplifies the use of only the freshest seasonal produce to bring out the simplicity of the dish and purity of flavours.
Savour the subtle nuances of classic Cantonese cuisine that pays homage to the authentic Cantonese heritage in a contemporary setting. Flawlessly prepared and seductively presented, it is the perfect exemplary of culinary versatility.
Daily:

12:00PM - 2:00AM

Champagne Hour (Daily):

6:30PM - 7:30PM

Live Jazz Pianist-Singer (Daily):

6:00PM - 1:00AM